Metal Plaques from Gemini Sign Letters™
Cast metal plaques in bronze, brass or aluminum.
Etched metal plaques in stainless steel, bronze, brass or copper.
Order Metal Cast Plaques Online - Order Metal Etched Plaques Online
Etched Metal Plaque Materials
See also our Cast Bronze and Aluminum Plaques.
Recognize an individual, capture a historical footnote, or dedicate a building - elegantly and permanently - with a plaque from Gemini Letters and Signs.
Gemini can have your custom plaque to you in 8 days!
Etched Plaque Materials
Stainless Steel Plaques:
Alloy 304; Optional Alloy 316
Thickness: 1/16", 1/8", 3/16" and 1/4"
Prices
---
Commercial Bronze Plaques (90/10):
Alloy C22000; 90% Copper, 10% Zinc
Thickness: 1/16", 1/8", 3/16" and 1/4"
Prices
---

Naval Brass Plaques (60/39/1)
Muntz Plaque (60/40):
Alloy C46400 (muntz equivalent); 60% Copper, 39.25% Zinc, .75% Tin.
Thickness: 1/16", 1/8", 3/16" and 1/4"
Prices
---
Copper Plaques:
Alloy C11000
Thickness: 1/16", 1/8", 3/16" and 1/4"
Prices
---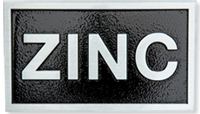 Zinc Plaques:
Prices
---